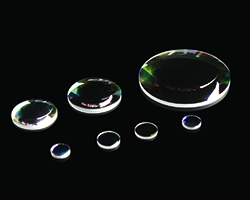 BK7 Plano-Convex Lens
The BK7 plano-convex lenses are available in a variety of laser lines. We can offer laser anti-reflection coatings with different wavelengths including 405nm, 468nm, 650nm, 808nm, 980nm, 1064nm, 1319nm, and 1550nm. Designed with high light transmission rate at the specified laser wavelength, our lens is ideally used in low power Ne-He or Nd: YAG laser sources. With a maximum reflectivity of less than 0.25% per surface at the design wavelength, it is able to achieve superior light transmission through integrating with multiple optical components. Our company can offer as many as thousands of ready-made radius of curvature model. Also, we can fabricate new models according to the requirements of our customers.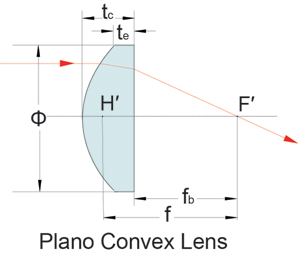 Technical Specifications
Material: BK7
Diameter Tolerance: +0/-0.1mm
Thickness Tolerance: ±0.2mm
Flatness: λ/4 @632.8nm
Clear Aperture: 90%
Focal Length Tolerance: +/-1%
Surface Quality: 40-20
Bevel: <0.25mm x 45 º
Design Wavelength: 587.6nm
Centration: 3 arc min

Note: The price per run of common single wavelength anti-reflection coating is displayed below. However, the actual price will fluctuate frequently due to the influence of size, time, quantity, and exchange rate. If you want to know of the current price, you can contact us immediately. Moreover, please skim through the page of coating film on our website for more information.
Catalog No.
Diameter
(mm)
Effective FL(mm)
Back FL(mm)
Radius R1(mm)
Center Thickness
(mm)
Edge Thickness
(mm)
Price-Uncoated
AR@1064nm Double Sides
5--10
50-100
10p
50p
100p
BJP-L4B-06-010
6
10
8.02
5.16
3.00
2.04
($)16.4
($)9.8
($)49.2
($)16.4
($)13.1
BJP-L4B-06-015
6
15
13.02
7.76
3.00
2.40
($)16.4
($)9.8
($)49.2
($)16.4
($)13.1
BJP-L4B-06-020
6
20
18.04
10.43
3.00
2.56
($)16.4
($)9.8
($)49.2
($)16.4
($)13.1
BJP-L4B-06-025
6
25
23.02
12.90
3.00
2.65
($)16.4
($)9.8
($)49.2
($)16.4
($)13.1
BJP-L4B-06-030
6
30
28.02
15.50
3.00
2.71
($)16.4
($)9.8
($)49.2
($)16.4
($)13.1
BJP-L4B-06-036
6
36
34.02
18.62
3.00
2.76
($)16.4
($)9.8
($)49.2
($)16.4
($)13.1
BJP-L4B-06-048
6
48
46.02
24.82
3.00
2.82
($)16.4
($)9.8
($)49.2
($)16.4
($)13.1
BJP-L4B-06-060
6
60
58.02
31.01
3.00
2.85
($)16.4
($)9.8
($)49.2
($)16.4
($)13.1
BJP-L4B-10-015
10
15
12.37
7.76
4.00
2.18
($)16.4
($)9.8
($)49.2
($)16.4
($)13.1
BJP-L4B-10-020
10
20
17.71
10.43
3.50
2.22
($)16.4
($)9.8
($)49.2
($)16.4
($)13.1
BJP-L4B-10-025
10
25
22.69
12.90
3.50
2.49
($)16.4
($)9.8
($)49.2
($)16.4
($)13.1
BJP-L4B-10-030
10
30
28.02
15.50
3.00
2.17
($)16.4
($)9.8
($)49.2
($)16.4
($)13.1
BJP-L4B-10-040
10
40
38.02
20.70
3.00
2.39
($)16.4
($)9.8
($)49.2
($)16.4
($)13.1
BJP-L4B-10-050
10
50
48.35
25.84
2.50
2.01
($)16.4
($)9.8
($)49.2
($)16.4
($)13.1
BJP-L4B-10-075
10
75
73.35
38.73
2.50
2.18
($)16.4
($)9.8
($)49.2
($)16.4
($)13.1
BJP-L4B-15-020
15
20
16.41
10.43
5.50
2.32
($)17.7
($)10.5
($)50.0
($)16.9
($)13.7
BJP-L4B-15-025
15
25
21.70
12.90
5.00
2.60
($)16.4
($)9.8
($)49.2
($)16.4
($)13.1
BJP-L4B-15-030
15
30
27.03
15.50
4.50
2.56
($)16.4
($)9.8
($)49.2
($)16.4
($)13.1
BJP-L4B-15-040
15
40
37.37
20.70
4.00
2.59
($)16.4
($)9.8
($)49.2
($)16.4
($)13.1
BJP-L4B-15-060
15
60
57.70
31.14
3.50
2.58
($)16.4
($)9.8
($)49.2
($)16.4
($)13.1
BJP-L4B-20-030
20
30
26.04
15.50
6.00
2.34
($)21.0
($)12.9
($)53.2
($)19.7
($)16.4
BJP-L4B-20-040
20
40
36.71
20.70
5.00
2.42
($)19.7
($)11.5
($)51.6
($)17.7
($)14.5
BJP-L4B-20-050
20
50
47.03
25.84
4.50
2.49
($)19.7
($)11.5
($)51.6
($)17.7
($)14.5
BJP-L4B-20-080
20
80
77.69
41.34
3.50
2.27
($)19.7
($)11.5
($)51.6
($)17.7
($)14.5
BJP-L4B-25-030
25
30
24.39
15.50
8.50
2.17
($)21.0
($)12.9
($)53.2
($)19.7
($)16.4
BJP-L4B-25-040
25
40
35.72
20.70
6.50
2.30
($)19.7
($)11.5
($)51.6
($)17.7
($)14.5
BJP-L4B-25-050
25
50
46.37
25.84
5.50
2.28
($)19.7
($)11.5
($)51.6
($)17.7
($)14.5
BJP-L4B-25-070
25
70
67.03
36.14
4.50
2.27
($)19.7
($)11.5
($)51.6
($) 17.7
($)14.5
BJP-L4B-25-100
25
100
97.36
51.69
4.00
2.47
($)19.7
($)11.5
($)51.6
($) 17.7
($)14.5
BJP-L4B-25-150
25
150
147.69
77.52
3.50
2.49
($)19.7
($)11.5
($)51.6
($) 17.7
($)14.5
BJP-L4B-30-040
30
40
34.40
20.70
8.50
2.06
($)21.0
($)12.9
($)53.2
($)19.7
($)16.4
BJP-L4B-30-050
30
50
45.39
25.84
7.00
2.20
($)21.0
($)12.9
($)53.2
($)19.7
($)16.4
BJP-L4B-30-070
30
70
66.04
36.14
6.00
2.74
($)19.7
($)11.5
($)51.6
($) 17.7
($)14.5
BJP-L4B-30-100
30
100
96.70
51.69
5.00
2.78
($)19.7
($)11.5
($)51.6
($) 17.7
($)14.5
BJP-L4B-30-150
30
150
147.36
77.52
4.00
2.53
($)19.7
($)11.5
($)51.6
($) 17.7
($)14.5
BJP-L4B-30-180
30
180
177.69
93.02
3.50
2.28
($)19.7
($)11.5
($)51.6
($) 17.7
($)14.5
BJP-L4B-36-050
36
50
43.74
25.84
9.50
2.20
($)26.6
($)15.3
($)58.8
($)21.8
($)18.5
BJP-L4B-36-080
36
80
75.38
41.34
7.00
2.88
($)24.2
($)13.9
($)56.5
($)20.2
($)16.9
BJP-L4B-36-100
36
100
96.05
51.69
6.00
2.76
($)24.2
($)13.9
($)56.5
($)20.2
($)16.9
BJP-L4B-36-120
36
120
116.70
62.00
5.00
2.33
($)24.2
($)13.9
($)56.5
($)20.2
($)16.9
BJP-L4B-36-150
36
150
147.03
77.52
4.50
2.38
($)24.2
($)13.9
($)56.5
($)20.2
($)16.9
BJP-L4B-36-180
36
180
177.36
93.02
4.00
2.24
($)24.2
($)13.9
($)56.5
($)20.2
($)16.9
BJP-L4B-36-220
36
220
217.37
113.83
4.00
2.57
($)24.2
($)13.9
($)56.5
($)20.2
($)16.9
BJP-L4B-40-040
40
50
42.42
25.84
11.50
2.02
($)26.6
($)15.3
($)58.8
($)21.8
($)18.5
BJP-L4B-40-080
40
80
75.05
41.34
7.50
2.34
($)24.2
($)13.9
($)56.5
($)20.2
($)16.9
BJP-L4B-40-100
40
100
95.72
51.69
6.50
2.47
($)24.2
($)13.9
($) 56.5
($)20.2
($)16.9
BJP-L4B-40-120
40
120
116.04
62.00
6.00
2.69
($)24.2
($)13.9
($) 56.5
($)20.2
($)16.9
BJP-L4B-40-150
40
150
146.70
77.52
5.00
2.38
($)24.2
($)13.9
($) 56.5
($)20.2
($)16.9
BJP-L4B-40-180
40
180
177.03
93.02
4.50
2.32
($)24.2
($)13.9
($) 56.5
($)20.2
($)16.9
BJP-L4B-40-220
40
220
217.37
113.83
4.00
2.23
($)24.2
($)13.9
($) 56.5
($)20.2
($)16.9
BJP-L4B-42-060
42
60
52.78
31.14
11.00
2.85
($)26.6
($)15.3
($)58.8
($)21.8
($)18.5
BJP-L4B-42-080
42
80
74.40
41.34
8.50
2.77
($)24.2
($)13.9
($) 56.5
($)20.2
($)16.9
BJP-L4B-42-100
42
100
95.39
51.69
7.00
2.54
($)24.2
($)13.9
($) 56.5
($)20.2
($)16.9
BJP-L4B-42-120
42
120
116.04
62.00
6.00
2.34
($)24.2
($)13.9
($) 56.5
($)20.2
($)16.9
BJP-L4B-42-180
42
180
175.65
77.52
5.50
2.60
($)24.2
($)13.9
($) 56.5
($)20.2
($)16.9
BJP-L4B-42-220
42
220
215.97
93.02
5.00
2.60
($)24.2
($)13.9
($) 56.5
($)20.2
($)16.9
BJP-L4B-42-300
42
300
295.96
113.83
4.50
2.55
($)24.2
($)13.9
($) 56.5
($)20.2
($)16.9
BJP-L4B-50-075
50
75
67.41
38.73
11.50
2.35
($)32.3
($) 17.7
($)64.5
($)24.2
($)24.2
BJP-L4B-50-100
50
100
94.07
51.69
9.00
2.55
($)29.5
($)16.4
($)61.3
($)22.6
($)22.6
BJP-L4B-50-125
50
125
120.06
64.60
7.50
2.47
($)29.5
($)16.4
($)61.3
($)22.6
($)22.6
BJP-L4B-50-150
50
150
145.39
77.52
7.00
2.86
($)29.5
($)16.4
($)61.3
($)22.6
($)22.6
BJP-L4B-50-175
50
175
171.04
90.44
6.00
2.48
($)29.5
($)16.4
($)61.3
($)22.6
($)22.6
BJP-L4B-50-220
50
220
216.38
113.83
5.50
2.72
($)29.5
($)16.4
($)61.3
($)22.6
($)22.6
BJP-L4B-50-300
50
300
297.03
155.04
4.50
2.47
($)29.5
($)16.4
($)61.3
($)22.6
($)22.6
BJP-L4B-50-400
50
400
397.36
206.67
4.00
2.48
($)29.5
($)16.4
($)61.3
($)22.6
($)22.6