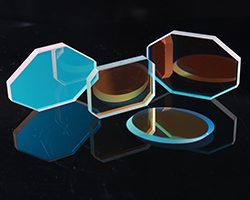 BK7 High Precision Substrate
This BK7 high precision substrate features 1/10λ surface accuracy, especially designed for demanding beam deflection and reflection applications in the visible and IR spectrum. We can offer various common laser wavelengths, such as 650nm, 808nm, 980nm, 1064nm, 1319nm, and 1550nm. Laser reflective coating with 0 to 45 degree AOI incident light adopts the dielectric coating, coming with high damage threshold as well as high reflectivity of up to 99.9%. This product can find its applications in beam deflection and folding applications. Moreover, we can design coating to satisfy your requirements.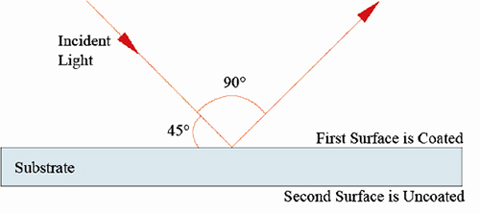 Technical Specifications
Description: Plano/Plano
Material: BK7
Diameter Tolerance: +0/-0.1mm
Thickness Tolerance: ±0.1mm
Flatness: λ/10 @632.8nm
Clear Aperture: 90%
Surface Quality: 20-10
Parallelism: <10arc sec
Bevel: <0.25mm x 45 º
Design Wavelength: 587.6nm

Note: The price per run of common single wavelength anti-reflection coating is displayed below. However, the actual price will fluctuate frequently as a result of the influence of size, time, quantity, and exchange rate. If you want to know of the nowadays' price, you can contact us immediately. Moreover, please skim through the page of coating film on our website for more information.
Catalog No.
Diameter
(mm)
Thickness
(mm)
Price-Uncoated
0ºHR @ 1064nm One Sides
45ºHR @ 1064nm One Side
5-10($)
50-100($)
10 p ($)
50 p ($)
100 p ($)
10 p ($)
50 p ($)
100 p ($)
BJP-MHB-6.0-3
6.0
3.0
11.6
7.3
$61.6
$18.9
$13.9
$81.6
$22.9
$15.9
BJP-MHB-10.0-3
10.0
3.0
11.6
7.3
$61.6
$18.9
$13.9
$81.6
$22.9
$15.9
BJP-MHB-12. 7-3
12.7
3.0
11.6
7.3
$61.6
$18.9
$13.9
$81.6
$22.9
$15.9
BJP-MHB-15.0-3
15.0
3.0
11.6
7.3
$61.6
$18.9
$13.9
$81.6
$22.9
$15.9
BJP-MHB-15.0-4
15.0
4.0
11.6
7.3
$61.6
$18.9
$13.9
$81.6
$22.9
$15.9
BJP-MHB-20.0-4
20.0
4.0
11.6
7.3
$61.6
$18.9
$13.9
$81.6
$22.9
$15.9
BJP-MHB-20.0-5
20.0
5.0
11.6
7.3
$61.6
$18.9
$13.9
$81.6
$22.9
$15.9
BJP-MHB-25.0-4
25.0
4.0
13.5
8.5
$63.5
$20.1
$15.1
$83.5
$24.1
$17.1
BJP-MHB-25.4-4
25.4
4.0
13.5
8.5
$63.5
$20.1
$15.1
$83.5
$24.1
$17.1
BJP-MHB-30.0-4
30.0
4.0
15.5
9.7
$65.5
$21.3
$16.3
$85.5
$25.3
$18.3
BJP-MHB-30.30-4
30x30
4.0
18.1
11.3
$68.1
$22.9
$17.9
$88.1
$26.9
$19.9
BJP-MHB-40.0-3
40.0
3.0
18.1
11.3
$68.1
$22.9
$17.9
$88.1
$26.9
$19.9
BJP-MHB-40.0-4
40.0
4.0
18.1
11.3
$68.1
$22.9
$17.9
$88.1
$26.9
$19.9
BJP-MHB-42.0-3
42.0
3.0
19.4
12.9
$69.4
$24.5
$19.5
$89.4
$28.5
$21.5
BJP-MHB-48.0-3
48.0
3.0
20.6
14.5
$70.6
$26.1
$26.1
$90.6
$30.1
$30.1
BJP-MHB-50.0-4
50.0
4.0
20.6
14.5
$70.6
$26.1
$26.1
$90.6
$30.1
$30.1
BJP-MHB-50.8-4
50.8
4.0
20.6
14.5
$70.6
$22.6
$22.6
$90.6
$30.1
$30.1