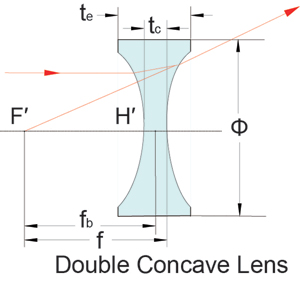 Technical Specifications
Material: UV Grade Fused Silica
Diameter Tolerance: +0/-0.1mm
Thickness Tolerance: ±0.2mm
Flatness: λ/4 @632.8nm
Clear Aperture: 90%
Focal Length Tolerance: +/-1%
Surface Quality: 40-20
Bevel: <0.25mm x 45 º
Design Wavelength: 587.6nm
Centration: 3 arc min

Note: The following table shows the price per run of common single wavelength anti-reflection coating. Yet, many uncertain factors like size, time, quantity, and exchange rate might account for actual price fluctuations. If you are interested in our product, please don't hesitate to call us. Moreover, please skim through the page of coating film on our website for more information.
Catalog No.
Diameter
(mm)
Effective FL(mm)
Back FL(mm)
Radius R1=-R2
(mm)
Center Thickness
(mm)
Edge Thickness
(mm)
Price-Uncoated
AR@1064nm double Sides
5--10
50-100
10.0
50.0
100.0
BJP-L1J-06-012
6
-12
-12.64
-11.30
1.92
2.73
$22.6
$14.5
$54.8
$22.6
$19.4
BJP-L1J-06-030
6
-30
-30.64
-27.80
1.90
2.22
$22.6
$14.5
$54.8
$22.6
$19.4
BJP-L1J-10-020
10
-20
-20.62
-18.62
1.83
3.20
$22.6
$14.5
$54.8
$22.6
$19.4
BJP-L1J-10-030
10
-30
-30.64
-27.80
1.90
2.81
$22.6
$14.5
$54.8
$22.6
$19.4
BJP-L1J-127-025
12.7
-25
-25.55
-23.17
1.61
3.38
$22.6
$14.5
$54.8
$22.6
$19.4
BJP-L1J-127-035
12.7
-35
-35.64
-32.38
1.87
3.13
$22.6
$14.5
$54.8
$22.6
$19.4
BJP-L1J-20-040
20
-40
-40.68
-36.98
2.00
4.76
$25.8
$17.7
$58.1
$25.8
$22.6
BJP-L1J-20-050
20
-50
-50.58
-46.11
1.71
3.90
$25.8
$17.7
$58.1
$25.8
$22.6
BJP-L1J-254-045
25.4
-45
-45.71
-41.58
2.08
6.05
$35.5
$27.4
$67.7
$35.5
$32.3
BJP-L1J-254-060
25.4
-60
-60.68
-55.32
2.00
4.96
$29.0
$21.0
$61.3
$29.0
$25.8