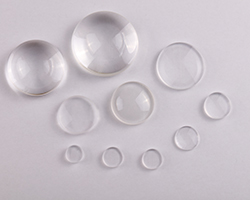 Fused Silica Double Convex Lens
Exquisitely manufactured from UV-grade synthetic fused silica, this fused double convex lens comes with outstanding thermal properties, exceptional purity, and excellent environmental durability. Also, it exhibits outstanding transmission property over the ultraviolet waveband, suitable for laser and imaging system. In our company, there are thousands of ready-made radiuses of curvature model. Additionally, it also can be customized according to customers' requirements.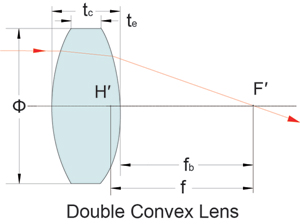 Technical Specifications
Material: UV Grade Fused Silica
Diameter Tolerance: +0/-0.1mm
Thickness Tolerance: ±0.2mm
Flatness: λ/4 @632.8nm
Clear Aperture: 90%
Focal Length Tolerance: +/-1%
Surface Quality: 40-20
Bevel: <0.25mm x 45 º
Design Wavelength: 587.6nm
Centration: 3 arc min

Note: The following table shows the price per unit of common single wavelength anti-reflection coating. Yet, many uncertain factors like size, time, quantity, and exchange rate might account for actual price fluctuations. If you are interested in our product, please don't hesitate to call us. Moreover, please skim through the page of coating film on our website for more information.
Catalog No.
Diameter
(mm)
Effective FL(mm)
Back FL(mm)
Radius
R1=-R2
(mm)
Center Thickness
(mm)
Edge Thickness
(mm)
Price-Uncoated
AR@1064nm double Sides
5--10
50-100
10.0
50.0
100.0
BJP-L2J-06-011
6
12
10.96
10.53
2.90
2.03
$22.6
$14.5
$54.8
$22.6
$19.4
BJP-L2J-06-018
6
18
17.01
16.05
2.80
2.23
$22.6
$14.5
$54.8
$22.6
$19.4
BJP-L2J-06-024
6
24
23.14
21.61
2.45
2.03
$22.6
$14.5
$54.8
$22.6
$19.4
BJP-L2J-06-030
6
30
29.29
27.18
2.05
1.72
$22.6
$14.5
$54.8
$22.6
$19.4
BJP-L2J-10-015
10
15
13.71
13.16
3.60
1.63
$22.6
$14.5
$54.8
$22.6
$19.4
BJP-L2J-10-020
10
20
18.61
17.70
3.90
2.46
$22.6
$14.5
$54.8
$22.6
$19.4
BJP-L2J-10-030
10
30
28.90
27.00
3.15
2.22
$22.6
$14.5
$54.8
$22.6
$19.4
BJP-L2J-10-040
10
40
39.05
36.23
2.75
2.06
$22.6
$14.5
$54.8
$22.6
$19.4
BJP-L2J-12-020
12
20
18.48
17.64
4.27
2.17
$22.6
$14.5
$54.8
$22.6
$19.4
BJP-L2J-12-025
12
25
23.61
22.28
3.95
2.30
$22.6
$14.5
$54.8
$22.6
$19.4
BJP-L2J-12-030
12
30
28.90
27.00
3.15
1.80
$22.6
$14.5
$54.8
$22.6
$19.4
BJP-L2J-12-040
12
40
39.03
36.23
2.80
1.80
$22.6
$14.5
$54.8
$22.6
$19.4
BJP-L2J-15-020
15
20
18.09
17.46
5.30
1.91
$24.2
$16.1
$56.5
$24.2
$21.0
BJP-L2J-15-025
15
25
23.33
22.16
4.70
2.08
$24.2
$16.1
$56.5
$24.2
$21.0
BJP-L2J-15-030
15
30
28.56
26.84
4.10
1.96
$24.2
$16.1
$56.5
$24.2
$21.0
BJP-L2J-15-040
15
40
38.75
36.10
3.60
2.02
$24.2
$16.1
$56.5
$24.2
$21.0
BJP-L2J-15-050
15
50
48.89
45.33
3.20
1.95
$24.2
$16.1
$56.5
$24.2
$21.0
BJP-L2J-20-025
20
25
22.22
21.65
7.65
2.75
$27.4
$19.4
$59.7
$27.4
$24.2
BJP-L2J-20-030
20
30
27.74
26.47
6.35
2.43
$25.8
$17.7
$58.1
$25.8
$22.6
BJP-L2J-20-035
20
35
33.15
31.24
5.25
1.96
$25.8
$17.7
$58.1
$25.8
$22.6
BJP-L2J-20-040
20
40
38.12
35.81
5.35
2.50
$25.8
$17.7
$58.1
$25.8
$22.6
BJP-L2J-20-050
20
50
48.57
45.19
4.10
1.86
$25.8
$17.7
$58.1
$25.8
$22.6
BJP-L2J-20-075
20
75
73.84
68.23
3.35
1.88
$24.2
$16.1
$56.5
$24.2
$21.0
BJP-L2J-25-040
25
40
37.63
35.59
6.70
2.16
$30.6
$22.6
$62.9
$30.6
$27.4
BJP-L2J-25-050
25
50
48.11
44.98
5.40
1.86
$29.0
$21.0
$61.3
$29.0
$25.8
BJP-L2J-25-060
25
60
58.24
54.20
5.05
2.13
$27.4
$19.4
$59.7
$27.4
$24.2
BJP-L2J-25-075
25
75
73.49
68.07
4.35
2.03
$27.4
$19.4
$59.7
$27.4
$24.2
BJP-L2J-25-080
25
80
78.56
72.69
4.15
1.98
$25.8
$17.7
$58.1
$25.8
$22.6
BJP-L2J-25-100
25
100
98.58
91.03
4.10
2.38
$25.8
$17.7
$58.1
$25.8
$22.6
BJP-L2J-25-120
25
120
118.66
109.40
3.90
2.47
$25.8
$17.7
$58.1
$25.8
$22.6
BJP-L2J-25-150
25
150
149.07
137.09
2.70
1.56
$25.8
$17.7
$58.1
$25.8
$22.6
BJP-L2J-254-040
25.4
40
37.73
35.63
6.42
1.74
$35.5
$27.4
$67.7
$35.5
$32.3
BJP-L2J-254-050
25.4
50
48.12
44.98
5.37
1.71
$29.0
$21.0
$61.3
$29.0
$25.8
BJP-L2J-254-060
25.4
60
58.24
54.20
5.05
2.03
$29.0
$21.0
$61.3
$29.0
$25.8
BJP-L2J-254-075
25.4
75
73.50
68.07
4.35
1.95
$27.4
$19.4
$59.7
$27.4
$24.2
BJP-L2J-254-080
25.4
80
78.40
72.61
4.63
2.39
$27.4
$19.4
$59.7
$27.4
$24.2
BJP-L2J-254-100
25.4
100
98.58
91.03
4.10
2.32
$25.8
$17.7
$58.1
$25.8
$22.6
BJP-L2J-254-120
25.4
120
118.66
109.40
3.90
2.42
$25.8
$17.7
$58.1
$25.8
$22.6
BJP-L2J-254-150
25.4
150
149.07
137.09
2.70
1.52
$25.8
$17.7
$58.1
$25.8
$22.6